Color Palette: Wes Anderson Movies
Also watch this interview of Wes Anderson, who talks about the distinctive production design and shot setup that make his "The Grand Budapest Hotel" such a remarkable-looking film.
https://youtu.be/ouavfP6EhWQ
Behind the Scenes
1. All the images from the movies The Grand Budapest Hotel and Moonrise Kingdom.
2. Click the palette to download the colors (5) in different formats (Color Schemer Studio, SVG, Expression Design Swatch, WPF Resource Dictionary, Silverlight XAML, Adobe Swatch Exchange, ACO, AI, GPL, HTML or everything in a zip file), at Colourlovers.com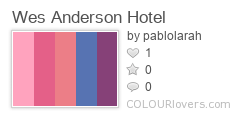 Color by COLOURlovers
3. Or download the Color Palettes here (the same ones you can get at Colourlovers in a zip):
Download
4. Also I created extended versions of the palettes, with fifteen (15) colors, including formats: Adobe Swatch Exchange, ASE, jpg and text with all the colors.
The Grand Budapest Hotel:
Download
Moonrise Kingdom:
Download
5.- The fonts in use are:
a.- Argentinian Nights by Kestrel Montes - Inkmethis studio.
b.- Zomnk by Tunghsiao Liu - Sparanoid studio.