Color Palette # 1 Marie Antoinette
The color palette number one is from:
Sofia Coppola's Marie Antoinette (2006).
I loved the colors and all the tones in the film.


About the movie:
Director: Sofia Coppola
Writer: Sofia Coppola
Stars:
Kirsten Dunst as Marie Antoinette
Jason Schwartzman as Louis XVI of France
Judy Davis as Anne de Noailles, "Countess of Noailles"
Steve Coogan as Florimond Claude, Count of Mercy-Argenteau
Rip Torn as Louis XV of France
Rose Byrne as Yolande de Polastron, Duchess of Polignac
Asia Argento as Madame du Barry
Molly Shannon as Madame Victoire
Shirley Henderson as Madame Sophie
Danny Huston as Joseph II of Austria
Marianne Faithfull as Empress Maria Theresa.
Tom Hardy as Raumont


Behind the Scenes
1.- The font I used is Dancing Script from the talented
Pablo Impallari.
2.- The fantastic layout for the color palette is a freebie from Katrina Tan's Blog Plugy Pixel (Now the website doesn't exist anymore). I always checked for freebies there and it was a feast for the eyes every blog post. You would have been be hours reading her posts. She had brushes, vintage labels & photo layouts for free.
3.- Click the palette to download the colors (5) in different formats (Color Schemer Studio, SVG, Expression Design Swatch, WPF Resource Dictionary, Silverlight XAML, Adobe Swatch Exchange, ACO, AI, GPL, HTML or everything in a zip file), at colourlovers.com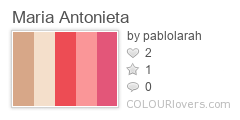 Color by COLOURlovers
Or download the zip here:

Download the kit