The color palette number one is for Sofia Coppola's Marie Antoinette from 2006. I loved the colors and all the tones in the film.
About the movie:
Director: Sofia Coppola
Writer: Sofia Coppola
Stars: Kirsten Dunst, Jason Schwartzman and Rip Torn.
Behind the scenes:
1.- The font I used is Dancing Script from the talented Pablo Impallari.
2.- The fantastic layout for the color palette is a freebie from Katrina Tan's Blog Plugy Pixel (Now the website does not exist anymore). I always check for freebies there and it is a feast for the eyes every blog post. Please enjoy her tutorials and superbe good taste. You will be hours reading her posts. She has brushes, vintage labels & photo layouts for free.

3.- Click the palette to download the colors (5) in different formats (Color Schemer Studio, SVG, Expression Design Swatch, WPF Resource Dictionary, Silverlight XAML, Adobe Swatch Exchange, ACO, AI, GPL, HTML or everything in a zip file), at colourlovers.com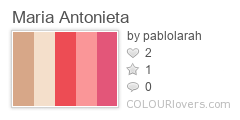 Color by COLOURlovers
Or download the zip here:
Download the kit