The Rajasthan School Color Palette
The Rajasthan School
The Rajasthan School

The art of Miniature painting was introduced to the land of India by the Mughals, who brought the much-revealed art form from Persia. In the sixteenth century, the Mughal ruler Humayun brought artists from Persia, who specialized in miniature painting. The succeeding Mughal Emperor, Akbar built an atelier for them to promote the rich art form. These artists, on their part, trained Indian artists who produced paintings in a new distinctive style, inspired by the royal and romantic lives of the Mughals. The particular miniature produced by Indian artists in their own style is known as Rajput or Rajasthani miniature. During this time, several schools of painting evolved, such as Mewar (Udaipur), Bundi, Kotah, Marwar (Jodhpur), Bikaner, Jaipur, and Kishangarh.
Archive of the National Portal of India

You can read more about it at the Google Arts & Culture Project:
The Indian culture is full of colours and these ones used by the painters of this school are pretty attractive. I found them searching for color palettes, which by the way, the Google Arts & Projects website offers at:
You can choose a palette or upload a picture to get some suggestions with art from around the world.
Now, my palettes for the Rajasthan School:
Behind the Scenes
1. All the images from the Google Arts & Culture website.
2. Click the palette to download the colors (5) in different formats (Color Schemer Studio, SVG, Expression Design Swatch, WPF Resource Dictionary, Silverlight XAML, Adobe Swatch Exchange, ACO, AI, GPL, HTML or everything in a zip file), at Colourlovers . com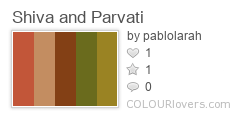 3. Also I created extended versions of the palettes, with fifteen (25) colors, including formats: Adobe Swatch Exchange, ASE, .png and .text with all the colors.
The The Rajasthan School Color palette:
Download
4.- The font in use in the cover I created is:
Aladin
by
Sudtipos
5.- I also made a pattern at Colourlovers.
Get it in different sizes at:
http://www.colourlovers.com/pattern/5822357/Rajasthan_Pattern